Retaining wall contractors in Texas
Adding a simple hardscape element of natural stone or concrete blocks can dramatically change the look and feel of your property. See how we can help!
Top-rated residential and commercial wall builders throughout the Lone Star State
Welcome to the premier retaining wall contractors in Texas. No matter where you reside in our great state, we can assist you with hardscape barrier building, replacement, and repair. We employ local builders and craftsmen in every city and town in the Lone Star State, from Guerra (population 6) to Houston (population 2.3 million).
Our crew is fully licensed, insured, and dedicated to providing you retention walls that look great, upgrade your yard and lawn, stop soil erosion, and make better use of hilly landscape. We deliver outstanding service for both home and commercial properties, including housing and apartment complexes, malls, hospitals, municipal and government buildings, schools, colleges, hotels, country clubs, resorts, and more.
We partner with our customers on a personal basis to create beautiful ideas that will enhance the look and feel of your space for years to come. Our No. 1 goal is to install durable and strong retaining walls that are appealing aesthetically and functional for your outdoor areas.
Our Texas company had more than 20 years of experience in outdoor wall construction and design. We are happy to discuss your desires and needs for a wall structure today. Our consultations and estimates are free of charge and transparent. Get in touch with us today to get started.
We install custom outside barriers made of long-lasting materials
Retaining walls provide much more than a simple add-on to a residential or commercial landscape. In many cases they are necessary to contain erosion and level out sloped terrain. We love walls for the beauty they bring, but we also love them because they help with drainage and moisture when it rains or during weather changes.
Wall installation often makes outdoor spaces safer and are helpful in avoiding expensive damage to landscape features. In many cases, barriers are constructed to create new living areas, including patios, decks, and steps. Many people like to have retention walls walls around pools, trees, driveways, under fences, on steeply graded front and backyards, and between their neighbors.
Depending on where the wall's purpose and where it is to be constructed, one material might work better than another for your property. We make use of gravity, cantilever, gabion, and anchored wall methods to provide stability that will last for decades.
We expertly assemble barriers made from concrete blocks, poured concrete, wood, bricks, and natural stone. (as explained below). It's up to you. We're ready to help.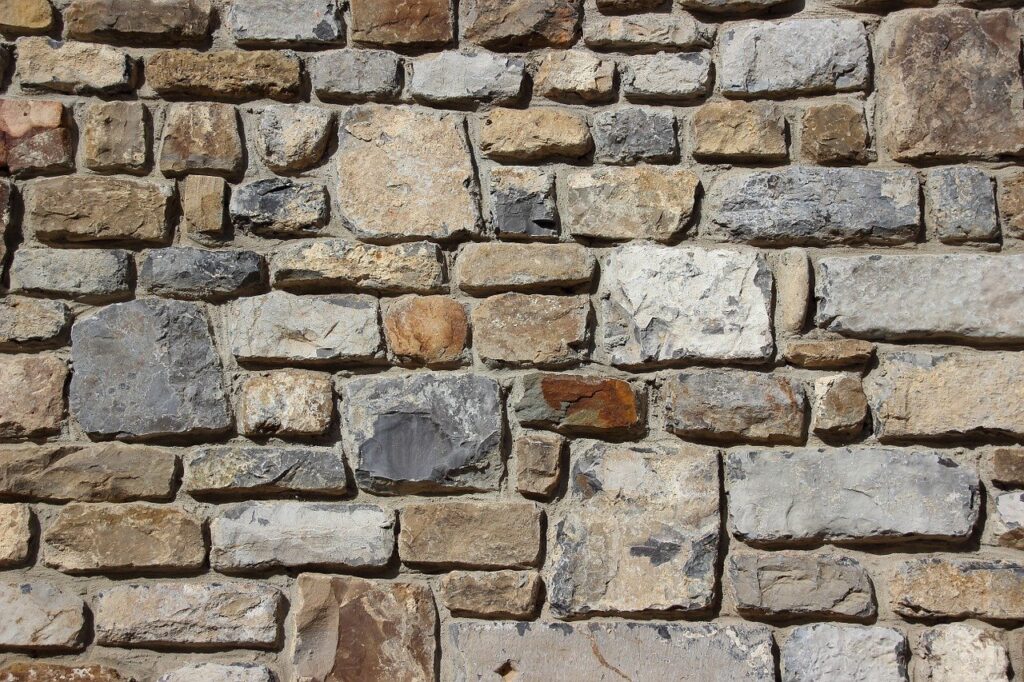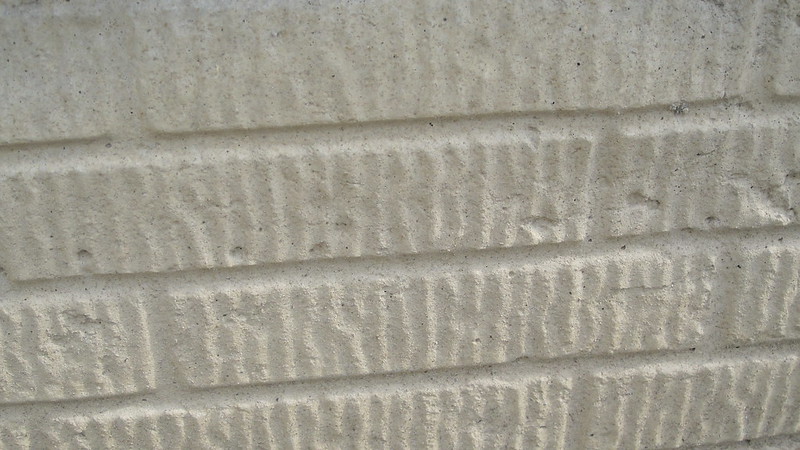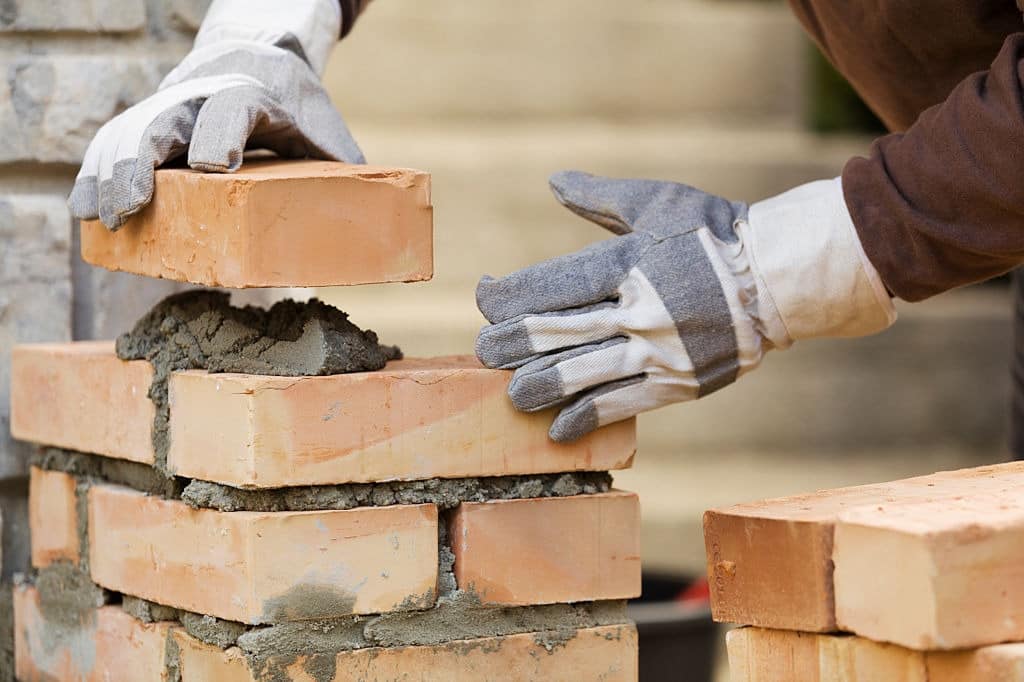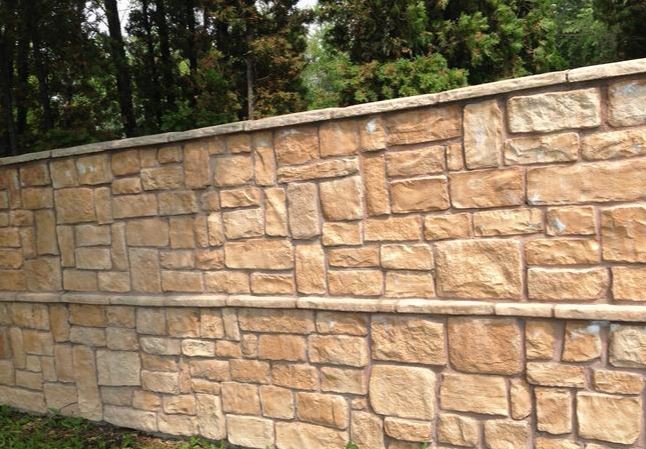 Concrete blocks are a popular choice for retaining walls. A big appeal is the wide variety of available block shapes, textures, colors, and sizes. This range of options makes it fairly simple to fashion a free-standing wall that blends well with most home and lawn designs. We can help you select colors and styles that match with your outdoor space.
Concrete block walls nowadays are sophisticated systems built for durability and strength. Blocks are stacked on top of each other and secured with interlocking edges, clips, and pins that create a structure solid enough to control drainage and water runoff. 
Most block walls are installed on a compacted gravel base. This helps the barrier to slightly bend with ground movement and remain sturdy. Most can be curved, sculpted and custom built.
While blocks may be the most popular material for retaining walls, most agree that stones make for the most attractive outdoor hardscape design. With natural stone, you have quite a few options that will work nicely with your home and lawn. 
Designing and building stone and boulders walls can be challenge and often require the skill and expertise of a professional contractor. If you want a stone wall higher than three feet, the work of a pro builder is needed to ensure longevity and wall strength. 
We can help you install customized walls made of rubble, limestone, textured stone, cut stone and boulders. Our designs are flexible and can be curved to meet your needs, style, and budget.
Walls made of brick and mortar have been constructed and used for hundreds of years for retention and landscape purposes. Using brickwork for your property produces a beautiful aesthetic that is traditional in nature. While the materials are not all natural, brick naturally blends with its surroundings in time. 
Brick retaining do well in complementing both modern and traditional architectural designs. Bricks are sturdy, durable, and tend to last for years with little to no maintenance.
A poured concrete barrier is a staple for new age homes and landscapes. Solid walls deliver clean designs and line. Thanks to their stability, they can be built taller than other wall materials and are ideal for terrains with steeper slopes. 
Poured concrete has dynamic flexibility and can be molded into any shape or style you wish. Different colors can also be applied to the material to produce an artistic design that is unique to your style.
Wooden walls aren't as popular as they were 15-20 years ago, but they still pair well with yards and homes that feature rustic elements (think stained wood and stone and wood, as well as plant life). Wood graining and texture are warm and visually familiar, making it an outstanding choice when wall aesthetics are essential to your style.
Timber, planks, and railroad tie materials are suitable choices for smaller budgets. They are usually built upon gravel beds and connected with long nails and spikes.
Our crew of highly skilled professionals custom design and construct retaining wall that fit your needs and budget. 
"We had a terrific experience with Texas Retaining Walls. They did a great job replacing our wall that was old, worn down and damaged. They took care of all the planning and design, including the engineering and site plans. Their crew team was very professional and experienced. They took carefully removed the existing wall and installed concrete masonry retaining walls that are much more attractive."
"You will not find better quality work in the Dallas-Forth Worth region than Texas Retaining Walls. Over the last handful of years, they have helped us install three stone walls that have made our property much more attractive. What sets them apart It is their careful attention to detail. They have an outstanding crew that know what they are doing. You will be thrilled with their craftsmanship and professionalism."
This is one of the best companies we have ever worked with for home service projects. When it comes to retaining walls for landscape, we wouldn't think of doing business with any other service in our area. We are very happy with the block concrete wall they built in our backyard. It is a great touch for our patio and garden areas. We love it, and we are thankful for their dedicated team of workers."
Our 4-step building process
Sure, you can gather some friends and family, drive over to Lowe's or Home Depot, buy the required materials, and attempt to construct a retaining on your own. If you are handy, you might even build a beautiful and sturdy wall. If you are not sure what you are doing, you are just as likely to end up with a disaster of a wall that fails at what you need it to do.
Sit back, relax, and let our crew assist you. Retaining wall design and assembly is most effective when completed by professionals who work through the steps below correctly. With our help, your wall will need only minimal maintenance and repairs in the future.
1. Build a base: Stone, wood, blocks and concrete must be secured at a proper depth below ground surface as determined by the height of the wall. A solid base is required for the wall to last long and perform as intended.
2. Backfill compaction: For a retaining wall to work the way you want it, it must have sturdy soil behind it. We call this soil backfill. Our pros determine the correct amount of fill for appropriate drainage and to maintain the integrity of the barrier.
3. Drainage design: Moisture cannot move through a retaining wall naturally. Thus, drainage channels must be implemented into the design. These channels (usually installed pipes or drilling small holes) prevent damage, including cracks and bulges.
4. Wall height: How much weight a wall can withstand has direct correlation with its height. Most retention structures are 3-4 feet tall and need no reinforcements. If you want to go higher, we can design and construct walls using cantilevered and other engineering methods.
Why choose us retaining construction, repair and replacement services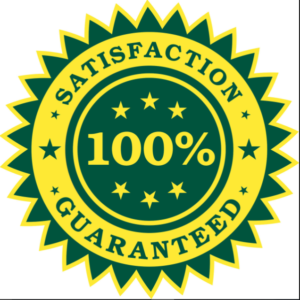 When it comes to hiring retaining wall contractors in Texas, we know you have hundreds of options. Some of our competitors doing very good work and decent enough reviews on Facebook, Google, HomeAdvisor, Thumbtack, Angie's List and Manta. So why partner with us? Here's five good reasons:
1. Experience: For decades, our company has delivered highly quality building and hardscaping craftsmanship to homeowners.
2. Cost: Not only do we promise premium craftsmanship, we deliver at prices and rates that affordable and competitive.
3. Personal touch: Before anything, our team meets with you one-on-one to help you choose the best type of retaining wall design for your property.
4. Expertise: We evaluate the range and height of your wall to determine the ideal materials for visual appeal and functional value.
5. Friendly: Our team members are respectful, courteous, and friendly. You might like them so much that you will them to stay for dinner after the job is done.
We are Texas company through and through. Our contractors are strategically positioned throughout the state to offer outstanding, personal, and specialized services. We work in the largest cities and the smallest towns in Texas. Just like you, we are part of the community.
Our coverage includes: Dallas, Houston, Forth Worth, San Antonio, Frisco, Irving, Arlington, Denton, Mesquite, Beaumont, El Paso, Corpus Christi, Austin, Plano, Laredo, Lubbock, Amarillo, Grand Prairie, McKinney, Brownsville, Pasadena, Killeen, Midland, Waco, McAllen, Odessa, Pearland, Missouri City, Sugar Land, Carrollton, Richardson, The Woodlands, College Station, Lewisville, Round Rock, Tyler, League City, San Angelo, Allen, Wichita Falls, Missouri City, Edinburg, Bryan, Longview, Temple, New Braunfels. Georgetown, Flower Mound, Conroe, Victoria, San Marcos, Port Arthur, DeSoto, Grapevine, The Colony, Texarkana, Schertz, Kyle, Burleson, Galveston, Wylie, and beyond.